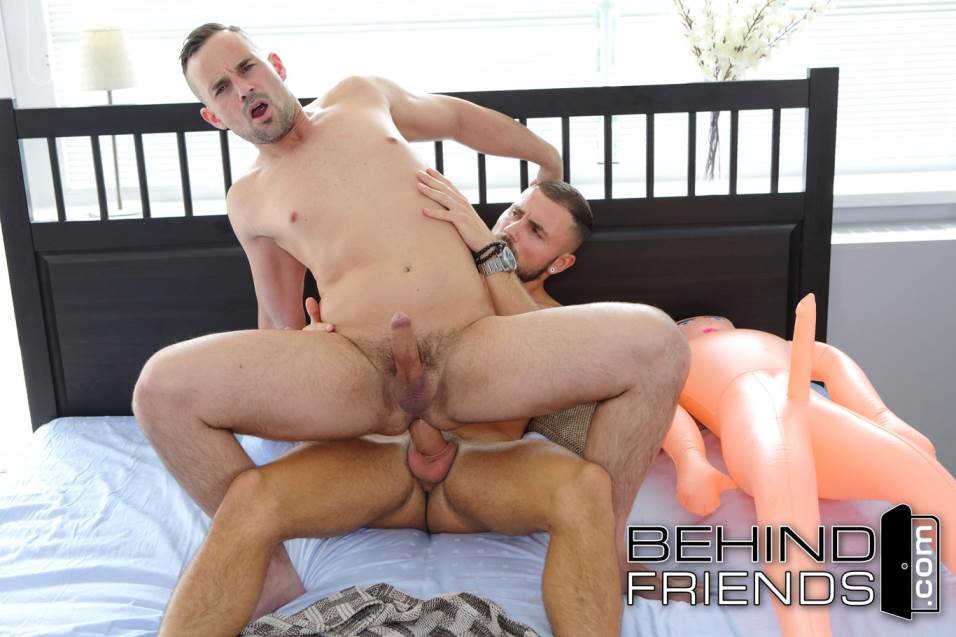 This Sunday the guys from Behind Friends have a really good video with Andy West and Jeffrey Lloyd – strong, masculine sexy studs.
For those of you, who like rugged, older males, Andy West should be a very nice surprise. The guy is in his late 30s and apparently spends a lot of time at the gym. He definitely has the male appearance that's typical of a real macho man. His body is pleasantly furred and clean from tattoos, very muscular and athletic. The story is pretty banal but Andy's presence is giving something really special to it. His wife leaves the apartment and he uses the moment to play with his favorite toy – a rubber doll of man with an inflatable cock. "Suddenly", his stepson Jeffrey Lloyd comes home at the right time. Just as unexpected, it seems that Jeffrey shares Andy's interests. He suggests to Andy, replacing the artificial penis with something more natural, like a big, bareback cock for example.
We all know how hot Jeffrey Lloyd is. His offer is certainly irresistible. That's why the older daddy immediately starts sucking that huge, raw member. Andy has trained hard with the rubber penis because he is doing the blowjob more than excellent. Jeffrey really appreciates what Andy has done, so he decides to show him how the real men fuck. Moments later Andy is on all fours with Jeffrey's bareback cock, fucking him raw and a little rough. Then Andy sits on Jeffrey's stick and shows his boy how he rides the sex toy. For the big, creamy finale, Jeffrey bends Andy over the bed and fucks the cum out of him. Eventually he pulls out and unloads his balls all over his daddy's six-pack.

"You're never going to need an rubber doll again", Jeffrey's telling Andy before leaving the room with a smile, showing true satisfaction.
You'll probably like: Andy West with Jace Reed, David, Tomas Salek. Enjoy all the videos of Jeffrey Lloyd.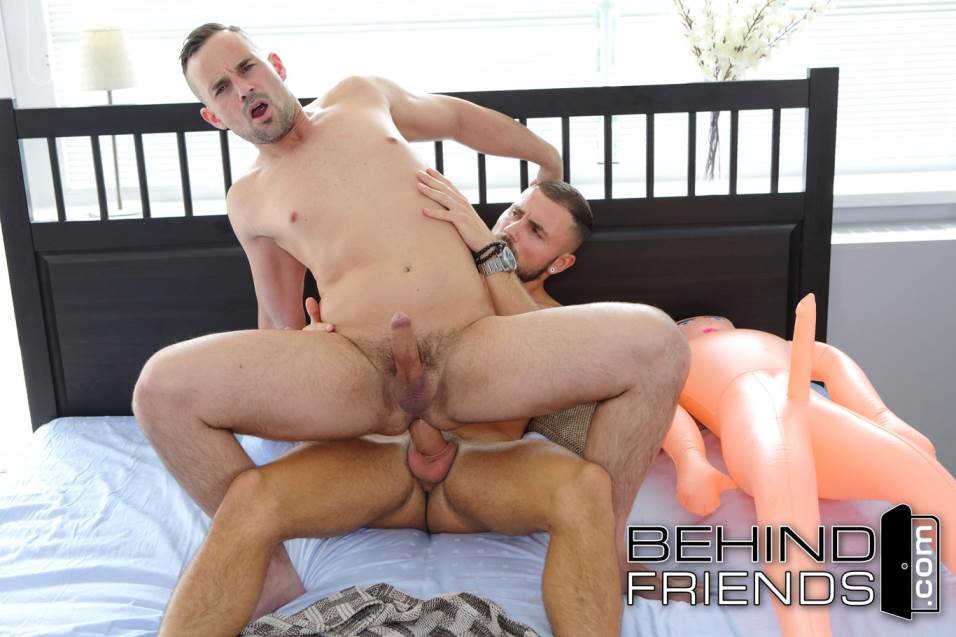 Like Andy West and Jeffrey Lloyd? Tap here to watch their raw sex session for BehindFriends.Com!
Pictures of Andy West and Jeffrey Lloyd