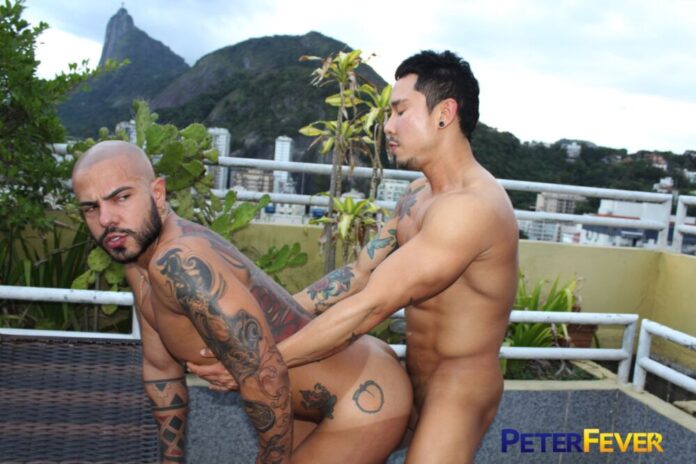 Peter Fever's "Postcards From Brazil" continues with scene 6 featuring Travis Yukarin & Petrick Garcia – two amazing studs with hot muscle bodies. Travis is making himself at home in Rio, out on the terrace hanging up laundry to dry in the hot tropical sun. But there's a sneaky voyeur checking out Travis' hot muscle body and thick bulging crotch.
Shaved-headed Petrick Garcia stops in his tracks on the way down the outside staircase to enjoy the view of the Asian-American tourist. Once Travis notices, he rubs his crotch, gives the local guy a good show to spy on. Turned on and rockhard, both studs step upstairs to the roof to fuck al fresco.

Travis stretches back in a rattan lounge chair as Petrick leans in to get a taste of American cock. Big lush lips locked around the head of Travis' uncut piece, he guzzles Travis to the furry root. Petrick straddles the lounge to grind his ass across Travis' probing tongue, grabbing his cheeks to spread his hole open wide. He aims Travis' cock at the smooth wet pucker of his hole and takes it in raw.
The two bareback fuckers stand and fuck doggy style as Petrick starts beating his cock. With Travis fucking his face, Petrick sprays a thick splatter across his bronzed abs. He tops that geyser of manjuice with a hot stream of piss drenching Travis' back. Travis rewards him with a mouthful of steamy, creamy male goodness.
Scene Photos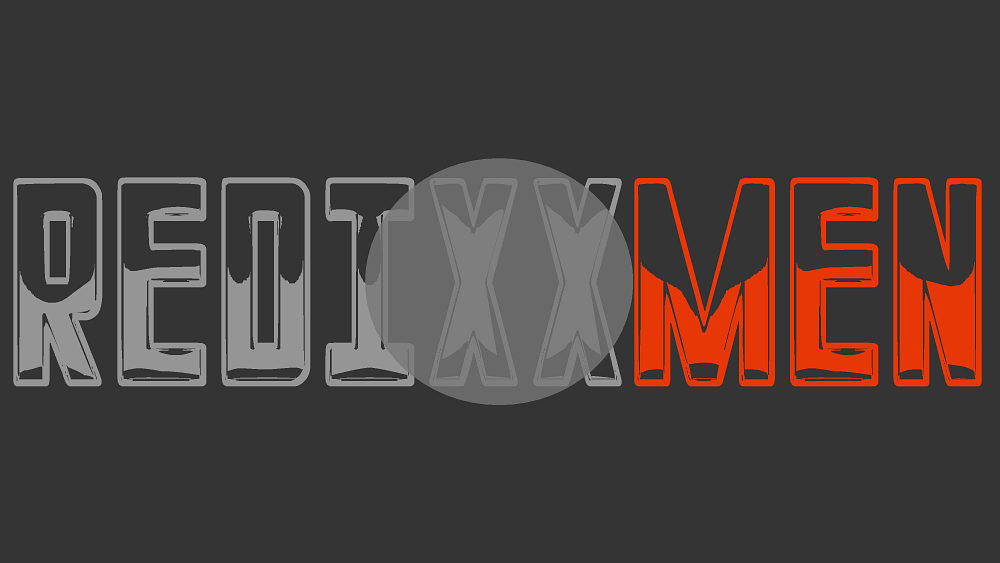 Don't miss also:
PeterFever

Who is PeterFever?
I am Peter Fever, also known as Peter Le, and am a Personal Trainer, Andrew Christian Model, Director and Producer. I started PeterFever.com in 2009 as a way to introduce sexy, muscular and masculine Asian American men to the world. What started as a hobby for me fast exploded into a huge brand, and since then I have traveled the world dancing, modeling and training. I've always been the adventurous type and the whole ride has been extremely exciting for me!
My site will allow you to discover an erotic fantasy world through storytelling where you can discover the hottest Asian guys with the biggest dicks and best bodies. Think of the series as a sexy soap opera where the men are all hot and the story always contains some mind blowing sex! In addition to our signature muscular Asian American models, we also have twinks, jocks and a few older daddies to add some variety to the mix. And oh, did we mention the sex? Well we've got it all, from rimming, to blow jobs, mind blowing anal, cum shots, orgies and more. Get ready for muscles galore, hot sex, hot men, fun stories and extreme quality; that's the Peter Fever experience!