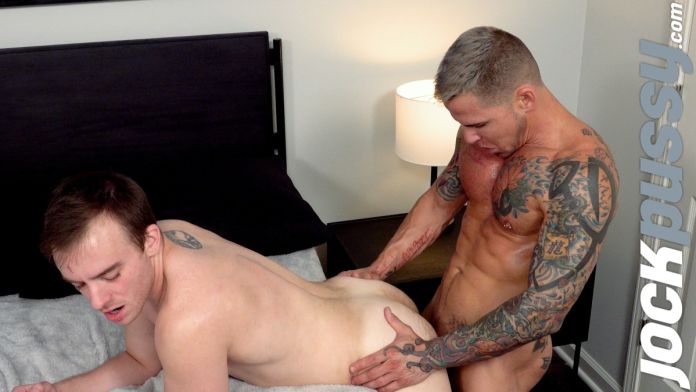 At Jockpussy, Archer Croft, the sexy tattooed jock dives face first into Luke Hudson's ultra moist manpussy. The dream jock rarely finds a boyslit this enticing and delightfully fuckable!
It wasn't long after first meeting that new friends Luke Hudson and Archer Croft realized they were feeling smoking hot for one another! Wasting no time, these clean-shaven hunky dudes took it to the bedroom to consummate their lust! Tattooed stud Archer eagerly makes out with equally turned on FTM beauty Luke. Atlanta is extremely hot during the summer, but these two horny boys will certainly take the temperature up a notch!

The studs' shirts and pants are stripped right off as their lips and tongues quickly begin to get acquainted. As the kissing gets heavier, the boy lust also gets more playful as well. The combination of desire and natural chemistry causes the hunks to smile and their hands can't help but eagerly explore one another. Soon, Luke takes things to the next level by sliding his hand down Archer's sexy jock strap and finding his giant hard on ready to go! Luke doesn't wait for permission to yank Archer's jock strap down and immediately swallows the muscle hunk's cock whole.
Archer can only moan and sigh with thanks and appreciation! And it doesn't escape Luke's attention that his new erotic playmate has a pair of impressively bull-sized nuts. Luke loves sucking cock and it shows! The cute stud is all about Archer's pleasure and really can't get enough. And soon, Archer wants to show Luke what he can do!
Don't miss also:
Scene Photos