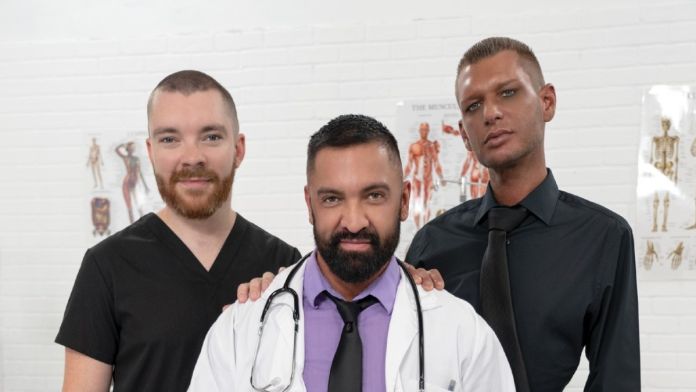 The Genital Hospital is open again and Wrex Wylde is ready to open the holes of Dominic Pacifico and Nathan Daniels by fist fucking them hard.
When Dr. Dominic Pacific needs to teach medical student Nathan Daniels a thing or two about the anal cavity, he calls in fisting expert Wrex Wylde for a hands-on demonstration. Nathan is slightly unsure of how this will go, but still doesn't hesitate when it comes to bending over the examination table, pulling down his jock, and letting Wrex's gloved hand enter his hole.

Quickly earning their approval, the fisting fucker takes his time simultaneously working the stretched-out assholes of both the teacher and student in multiple positions. Now on separate tables with their legs spread, the two medical men jerk themselves off and continue to get punched in the prostate until they're both laying there completely drained from their masterful fisting.
Don't miss also:
Scene Photos