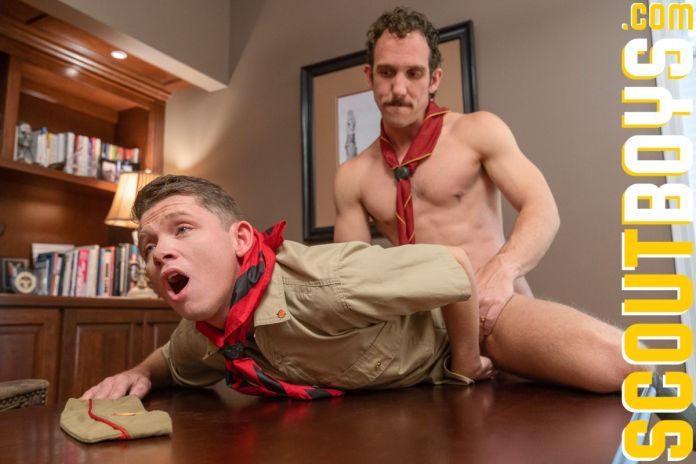 This week from ScoutBoys, stunning Scoutmaster Greg McKeon seduces cute, innocent new stud, Landon Davis, and makes him take a cock in the ass.
Here's what Landon Davis explained: Scoutmaster Greg McKeon called me into the main office to take the Elite Scout pledge. I was a bundle of nerves, but as he attached the special pins to my uniform shirt, I felt a rush of pride. Then he started to touch me in a way that I'd not been touched before. It made me feel both scared and excited and I started to gasp. He stood behind me and I could feel him pushing his body into my back. His penis was hard and very large.

He pushed me onto the desk, face down, with one leg up, before pulling down my underpants down and starting to kiss and lick my butt. It felt exciting and sexy… and all sorts of crazy sensations I can't even put words to. I heard him unzipping his shirt and undoing his belt and I realized he was going to try to slide his giant penis into me.
The sensation was indescribable. The pain was excruciating at first. As his dick inched into my body, I could feel my insides being stretched and brutally pushed aside. But it made me feel alive. I just wanted his dick further and further inside me. I wanted to be his little sex toy. I wanted him to fuck me and slam his giant dick deep into my guts. He must have sensed all of this because he suddenly started to pound me hard. He put his leg up on the table and pounded me like a stag in heat. His pleasure was all I desired. I was his and he could fuck me wherever, whenever, and however he wanted…
Don't miss also:
Scene Photos