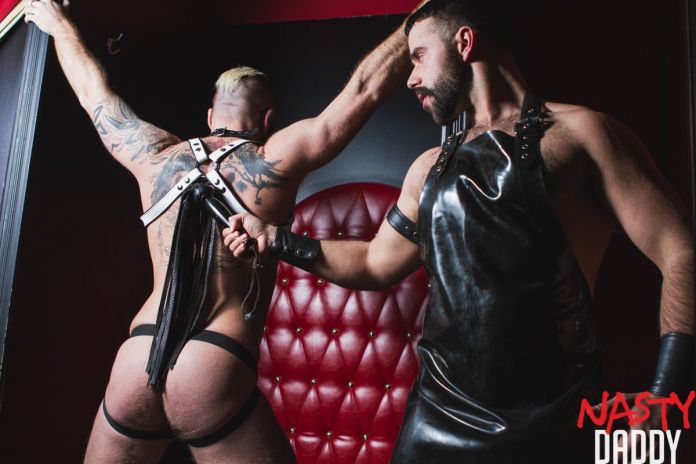 Teddy Torres in a rubber apron and leather dominating Zach Auckland. Get ready for a rough and oh-so-erotic experience thanks to Nasty Daddy.
When the guys from Nasty Daddy sent us their latest video featuring Teddy Torres and Zach Auckland, we couldn't believe our eyes. While we're not fans of BDSM, we instantly went over to the "dark side" when we saw what it was all about. A red leather armchair, a dark room, and two incredible-looking men. It's no accident that we chose Teddy in a rubber apron holding a whip pointed to Zach's tattooed back as the photo for the post.

Maybe it looks a bit rough, but this picture brings such an erotic experience… kind of like 50 shades of black. Of course, leather and rubber are the highlights of the scene, but they only give it that slight perversity that does not cross the borders. We won't tell you how cool it is when Teddy Torres bangs Zach Auckland because it has to be seen, but we swear it's the best video we've watched this week. Nasty Daddy often shoots masterpieces, but this scene surpasses even the high level they generally have.
Don't miss also:
Scene Photos